News
Texas Poets Podcast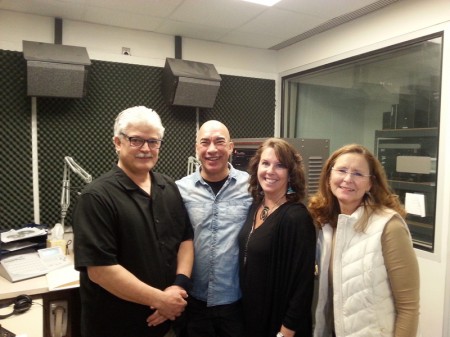 Winner of the 2016 Texas Spokenword Award for Top Poetry Program, InSpiritry's Texas Poets Podcast features conversations with outstanding Texas Poets.
In each Texas Poets Podcast, guest poets choose a poem they want to recommend; featured poems are read by the poet who wrote them. Host Dr. Stephen Souris keeps the tone of the programs conversational and friendly. Topics include the craft and creation of poetry, as well as the cultural and literary landscapes of Texas. Guests include Texas Poets Laureate along with other well-known and up-and-coming Texas poets from across the state.
Listeners can find the programs at TexasPoetsPodcast.com and at InSpiritry, with links to the audio of the programs, photos of guest and featured poets, and text of the poems discussed.
Created by Terry Jude Miller and hosted by TWU professor, Dr. Stephen Souris, each monthly program features a Texas poet discussing a poem by another Texas poet. InSpiritry produces the podcast series. Artistic advice is provided by Texas Poet Laureate and inaugural Texas Poets Podcast guest Karla Morton, with help from an advisory committee of poets, professors and teachers. KTCU and TCU Press in Fort Worth provide studio time for recording the shows, and public radio stations around the country help with recording the featured poems. Alex Souris serves as production intern with communication students at North Texas State University assisting with promotion.
Texas Poets Podcast is a labor of literary love, with ongoing expenses for hosting, recording and production. Listeners and poetry lovers can become a sponsoring supporter of this exciting project through the TCU online donor portal.

TCU Portal Form Instructions: Under the "Gift Designation" box, click "Other - User Input Texas." A text box will appear; type in "Texas Poets Podcast." Then complete each field that has a "red" asterisk (your phone number should have only numbers - no other characters). Click the large "CONTINUE" button in the lower right of the form and follow the instructions to complete your donation using your debit or credit card. Your donations are tax-deductible and go toward funding current and future podcasts.
Tax-deductible contributions may also be sent to:
TCU Press – Texas Poets Podcast
c/o Adam B. Baggs
Assistant Vice Chancellor, College and Regional Development
TCU Box 297044
Fort Worth, TX 76129