Anne McCrady - Librettist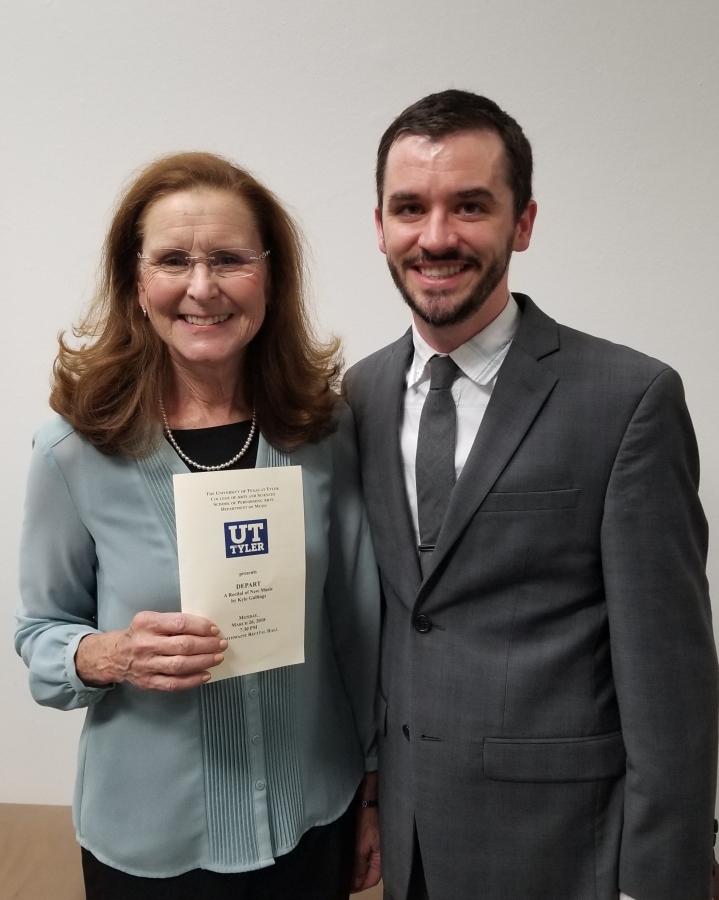 Anne McCrady with Composer Dr. Kyle Gullings
Writing for musical theater brings together my life-long love of story, poetry, music and performance --
as well as my enjoyment of creative collaboration!
Anne McCrady
After writing poetry and telling stories for decades, in 2014 Anne McCrady was approached by composer, professor, and Chair of the UT Tyler School of Performing Arts, Dr. Kyle Gullings, who asked for permission to orchestrate several poems from Anne's poetry collection, Letting Myself In (Dos Gatos Press, 2013). The chosen poems formed a song cycle of women's experiences and perspectives. The composition was performed at University of Texas at Tyler in Tyler, Texas, (sung by opera professor, Dr. Suah Park) and later at Louisiana Tech University in Ruston, Louisiana, as well as at an 2015 opera conference at University of Texas at Arlington in Arlington, Texas.
The next year, Anne and Kyle, both of whom have written award-winning work, agreed to collaborate on an original contemporary opera. The two created the narrative together, with Anne taking the lead on writing the libretto (script and lyrics) and Kyle composing the opera's musical score. In 2018, The two finished their work on Departure, a one-act opera that focuses on a middle class family in the 1980s -- an engineer, his designer wife, their daughter who is about to be married, a discontented teenaged son and three of the daughter's closest friends. As each character grapples with their own hopes for the future, the family dynamic is stressed by the threat of permanent change. How the characters respond to one another's actions and to their own doubts and desires comes to an exciting climax at the end of the performance.
Excerpts from Departure have been performed with piano and voice in recital in the UTTyler's Braithwaite Recital Hall, with chamber orchestration and voice in the beautiful, acoustically designed sanctuary of First Presbyterian Church in Tyler, Texas, and with piano and voice in the intimate setting of the Unitarian Universalist Fellowship of Tyler worship sanctuary. The full manuscript and score are ready production and hopes are for a future full-length performance.
Anne is already at work on her next libretto, an adaption of a peace parable she wrote and published early in her writing career.