News
Poem for Summer Nights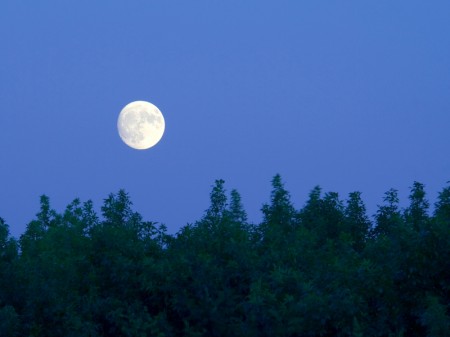 Thunder Moon
The Texas summer heat
had become you: all angst and anger.
Cicada song, no more brittle
than your spirit against the blowing grit
of one more minute, one more day.
A rider thrown early. A farmer finished off.
Your fight for a better life, lost for good;
the future, stifling as a dust storm
on an open-windowed drive west.
You were through, whipped, all done,
until tonight – when, as proof that prayer
can divine God's sweetest mercy,
July gives you its huge Thunder Moon:
a bronze beacon in gold leaf sky;
your heart's darkness lit up
by streaks of silver heat lightning.
Too tired for talk, no taste for tears,
you undress yourself of opinions,
revisions, divisions, complaints.
Stepping out under the banner
of this victorious sky, your spirit
rises to the applause of crickets
and the forgiving coos of mourning doves.
Leaning back to look up into heaven,
you release every sorrow to a breeze
steeped in tea-colored moon shadow,
then drink in deep draughts of hope
sure as this Texas honeysuckled night.
by Anne McCrady
This poem first appeared in the 2011 Texas Poetry Calendar.